Hi everyone
Now, we all were new to Flight Simulator one time or other. Now most of us can admit to when we first got into flying we always wanted to fly the "heavy metal" first. Everyone has the impression that "there the fastest" "you see them more than Cessna's" blah blah blah
First, most people might start with the 747 "cos it looks d coolest", but then wonder "why the hell does it not leave the ground on me and I'm well off the end of the runway??" and then decide its too big of an airplane for the runway and eventually go down to the 737-400, which does go off the runway, so they will stick to that
But are the newbies doing it right?? That is the question!! Follow this guide and I'll have you off the ground the proper way in no time.
And don't worry, the guide is foolproof 😉
Refer to this picture if you need any help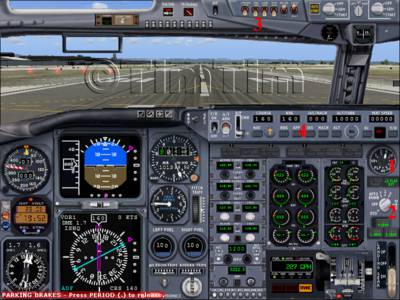 I am using Greg's 737 Panel, so this will look different, but all the instruments needed for takeoff are more or less in the right place, so you shouldn't be confused!!
OK, here is the guide for you!!
Set up your flight... choose aiport (any one you wish but must have a solid runway that is long enough for a 737).. choose runway in airport (usually "Active Runway" will do)... choose time (day is better at first, because its easier)... choose weather (choose "fair weather" or "clear skies", don't choose weather which affects your visibility... taking off blindly is a whole different ballgame)
You should now be on the runway.
Set flaps to 5 degrees (press F7 three times) (see number 1 in picture for flaps)
Set autobrakes to RTO (Rejected Take-off, more imortant than you think) (see number2 in picture)
Set lights.. switch all lights on... to do this press L
If needed, set autopilot (

but don't activate it

)
You are now ready to roll down the runway
Begin by increasing the throttle smoothly to 40% (or you could just say half way)... when the engine spools up to "half way" increase the throttle smoothly to 100% (full power, full throttle, 'd noisy setin')
When you get to 150 knots (or nautical miles per hour) rotate gently to 10 degrees. After about five seconds, press G to raise the landing gear. Then increase your pitch to 17 degrees (halfway between 15 and 20)
Now if you wanted to, you could activate the autopilot which you set earlier now, if not just keep climbing as normal
Raise flaps (this actually means lower the value, so put them back to 1)
Decrease pitch to about 10 degrees and climb to your target altitude (if you have one 😛)
Move autobrakes from RTO to Off (this isn't crucial, it can be done any time in the flight, as autobrakes don't affect speed in the air seen as they are for the wheels and they are safely tucked away and locked in a nice wee compartment under the plane)
And there you have it, you are in the air flying!! 🙂
Now all you have to do is..em... land!!
Landing isn't so easy to explain like I did there because with landing there isn't as much definite figures as takeoff, such as flaps, power, trim, pitch, speed etc.
Hope this helps all of you budding flight simmers out there!! 😀