Can anyone give me the cordinates of the default oil platform in flight sim (shown in senery in the help section)? Because I'm following the derections and I can't find it
oh... never saw that. I'll try it.
Oil rig near Corpus Christi, Texas (KCRP)
Position aircraft: N 27* 43.65
---------------------W 97* 15.67. Altitude 500', Heading 082.
Truax VOR/DME: 030 degree radial, 3 DME
🙂
Hi Folks
oreo005 -
The MSFS default rigs are poor quality, totally fictional, & unrealistic macros.
For a far more realistic experience,
including turbulence on approaching the larger helipads,
The ODG - USAEZ GoM Demo contains real-world positioned models for -
9 Fixed-installation platforms.
8 Jack-Up platforms
8 Semi-Submersibles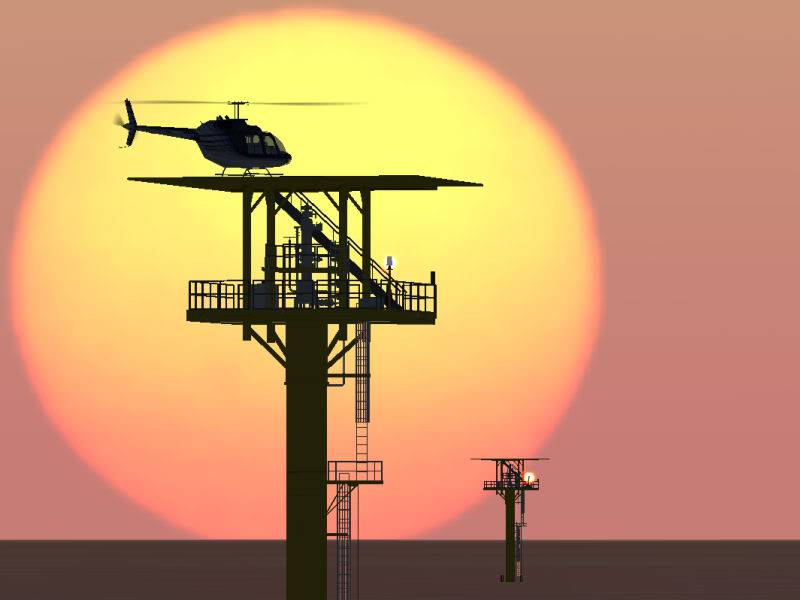 See the info and dowload link at - ODG - USAEZ GoM Demo
Also see The ODG project
If you wish to stick with the FS2004 MSFS Default rigs -
I don't know if this is all of them, as I'm not on FS2004.
Culled from a post by Haggis225 on flightsim.com -
Gulf of Mexico
N30 11.35 W87 57.13 26 nm 167 from KBFM Mobile, AL; pad n NE corner
N28 40.43 W90 09.64 37km 194 from GNI (seaport) Grande Isle, LA; pad on S side
N28 41.97 W91 13.96 61km 170 from KPTN Patterson, LA; pad on S side
N28 45.77 W91 24.20 57km 180 from KPTN Patterson, LA; pad on S side
N28 51.60 W91 52.70 58km 205 from KPTN Patterson, LA; pad on S side
N29 23.06 W92 59.33 46km 160 from KLCH Lake Charles, LA; pad on S side
N29 31.17 W93 17.08 36km south of KLCH Lake Charles, LA; pad on S side
N28 29.51 W95 55.12 19.8 nm 78 from 72TA Texas; pad on S side
N27 43.66 W97 14.94 3.1 nm 49 from KNGP Corpus Christi, TX; pad on SE corner

US East Coast
N36 54.30 W75 42.76 23.5 nm 98 from KORF Norfolk, VA; pad on NE corner
N31 56.90 W80 40.96 28.5 nm 117 from KSAV Savannah,GA; pad on SE corner

Note: All pads approx 120ft MSL
HTH
Paul