At the moment I am having a problem flying 747's.
Basically I cannot get the airplaine above 399 KIAS in straight and level flight so I cannot get the plane above 26000 ft approx because the speed drops too low when I climb
Is this due to the weight of the fuel and passengers etc?
Even when I set the auto pilot to hold Mach .85 or hold 477 KIAS it just decreases the throttle and thus my speed drops! 😳
Am I making a fundemental error somewhere?
Thanks for any help
jim124 wrote:

Is this due to the weight of the fuel and passengers etc?
That would be my first thought. Who made the 747s in question?
This could be due to a number of factors, weight and fuel as you stated is probably the major factor. As you know a 747 is a heavy bit of metal to get into the sky and they usually use the "step climb" method to get to their cruise Alt, that is ,climb to a certain alt then wait until you have reached your IAS then climb again and so on, another could be the climb rate you are using, as you get higher the air gets thinner so you have to reduce your climb rate. You say you set the autopilot to 477kias, i think you'll find that to be unachievable, that may be the airspeed but not on the autopilot this will be more like 290. I'm sure CRJCapt will be able to explain all this much better when he signs on! 😀
Hi guys so what should my speed be in a Jumbo whilst cruising??
In this first shot you'll see that i am climbing at 1800fpm and just passing 20,000ft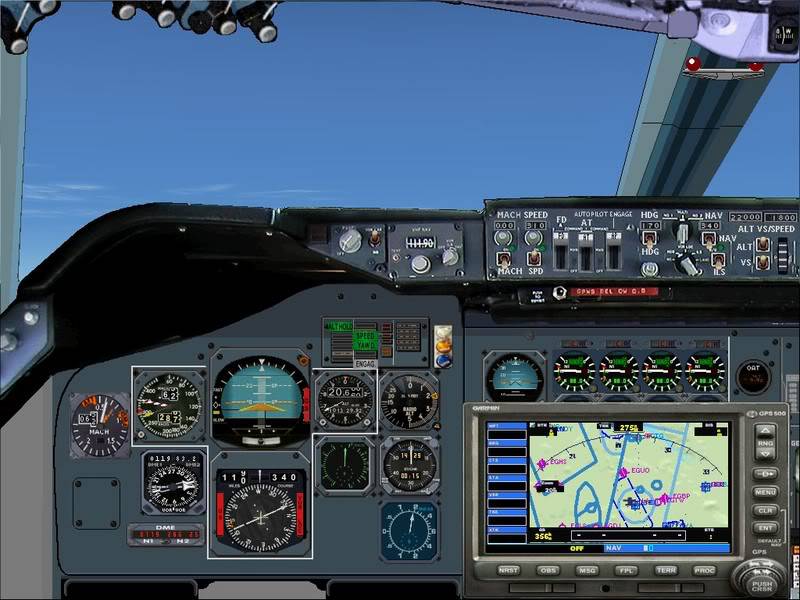 In the second i am level at 36,000ft and the IAS gauge is showing 290kts but the GPS states 464kts groundspeed.The red and white needle on the IAS gauge is not to be exceeded (This will cause an overspeed warning).So in cruise keep your IAS just below this needle.Note that the autopilot IAS is set to 290 and the Mach is .85.During climb up to 10,000ft i set it at 240kts,from 10,000 to 18,000 i set it to 280kts, passing 18,000 i increased to 310kts then as the needle begins to drop i adjusted the speed accordingly.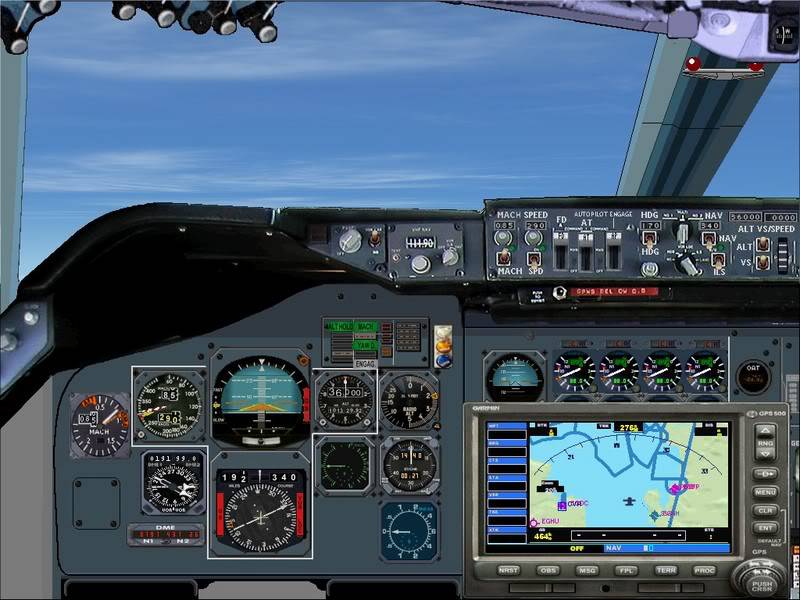 Tailhook makes a good point about the aircraft you are using, i used a POSKY 747 and fully loaded climbed at 1800fpm nearly all the way to 36,000ft.
Hope this helps 😀 !
I'm sure CRJCapt will explain this much better when he comes along!
Thanks WelshFlyer, I'm a newbie (like you hadnt guessed) 😀
When flying a 737 I can get it up to 480 kias no problem so basically 747's are slower than 737's right?
IAS (indicated airspeed) decreases as you get higher with less air particles going through the pitot tube etc, acting like a venturi and then moving the needle on the airspeed indicator! you might find when getting higher to change the autopilot speed setting from IAS to MACH!
also mentioned in one of the above posts you will find that you will have to climb at a slow rate, even 600ft/min just to compensate for speed and avoiding a stall! kick out some passengers or cargo/fuel, or if you doing a long hop then use a slow climb to altitude!
HAPPY FLYING!
jim124 wrote:

Thanks WelshFlyer, I'm a newbie (like you hadnt guessed) 😀

When flying a 737 I can get it up to 480 kias no problem so basically 747's are slower than 737's right?
Not at all, it all depends on the weather, e.g if you are flying into a strong headwind you may not reach your desired cruise speed and if you have a tailwind you may well exceed it. X-pilot correctly reminds me that when you reach cruise altitude you switch to mach then revert to IAS on descent.
P.S. Where is CRJCapt when we need him? 😀
As x pilot has stated, large aircraft don't climb very well , heavily loaded, at higher altitudes. A large aircraft at max. weight can't even get to it's max altitude until fuel is burned off and the aircraft becomes lighter. Reducing weight will also help.
Normal speeds(approx.) would be:
0-10,000----------250 KIAS
10-FL280----------300 KIAS
FL280-Cruise------Mach .75
AP in flight sim will not climb in reference to airspeed like the real aircraft, only vertical speed(VS). Vary VS as necessary to maintain speed.
As Welshflyer has pointed out, indicated airspeed decreases as an aircraft climbs due to the lower air density at higher altitudes. 272 KIAS results in a True airspeed(TAS) of approximately 460 knots or Mach .80. Large aircraft have airspeed limitations set by the manufacturer for safety reasons. Most large aircraft have a Vmo or maximum airspeed of about 330-370 KIAS at lower altitudes. Above about FL 280, Mmo(Mach) maximum Mach speed is about .82-.88 depending on aircraft. These limits are set by the manufacturer for safety reasons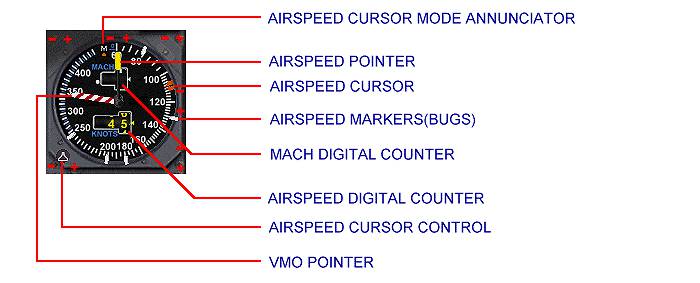 PS Thanks WelshFlyer, sorry I'm late. 🙂
CRJCapt i'm just glad you could come along and explain it all much better than me 😀 ! Thanks very much for checking this one out,i'm sure jim124 will be very grateful ❗ I hope.
Jim124 if it makes you feel any better i just had exactly the same problem in a DC-10. I even tried step climbing to no avail, got up to speed and tried to climb, but even at 500fpm went nose high and stalled something wrong with the CFG here i think!
I have been having the same problem. I recently downloaded a posky (Project Opensky) 747. I started out on a flight from Dubai to Cologne. After passing 25,000 feet my airspeed started to drop even though i was ascending at 400fpm. So... I decided some tweaking was needed.
Here's what I did:
Go into the aircraft.cfg and find the entry [TurbineEngineData].
Underneath it, find static_thrust.
Then increase the number after it as needed.
static_thrust = 56000 -------> static_thrust = 70000.
This is what I did and it really helped. It enabled me to climb and cruise @ FL380 like I could with any other working jet. 🙂 [/b]