Heyjoojoo wrote:

Is it just a matter of dragging those files from FSx to fs2004?

And does that mean that the sounds are better in FS2004?

- Kareem
I have a huge collection of soundsets, tell me what aircraft you want the sounds for. I'm sure I'll be able to recommend something nice.
Don't drag anything from FSX to fs2004 as you suggested above - I guess you meant something else.
As Karlw already mentioned: "all fs2004 sounds can be used in fsx"
The sounds don't sound better in FS2004. The quality of what you hear of a good soundset depends entirely on your soundcard/or -chip and the kind of speakers you're using.
I want to stress that the default sounds whether in fs9 or in fsx are not very good. As a rule of thumb, the bigger the size of the soundset, the better the overall sound experience. There are exceptions of course, but they are few and far between.
The reason why Microsoft supplies 'inferior' soundsets with the flightsims is to save space and I can live with that. I think it's a healthy trade-off considering all the other files that have to be squeezed on the Discs to make FS complete.
One more thing - in order to enjoy your improved/better sounds, you don't need to install different aircraft.
In the extreme, though unrealistic, you can have the Cessna sound in a 747 or.. the other way around. This is just to illustrate that the installation of different soundsets is very simple and not much consideration has to be given to model, type etc.
If you're a bit of a sound addict like I am, you'll start chasing down the exact soundset for the aircraft as in real life.
How do you know which aircraft uses what type of engines?
Many aircraft, especially jet powered a/c have a reference in the description part of the aircraft.cfg to the types of engines used. (Microsoft's default a/c omit that piece of information).
Example: Let us say for argument's sake you have a Lockheed C-5 Galaxy.. this baby here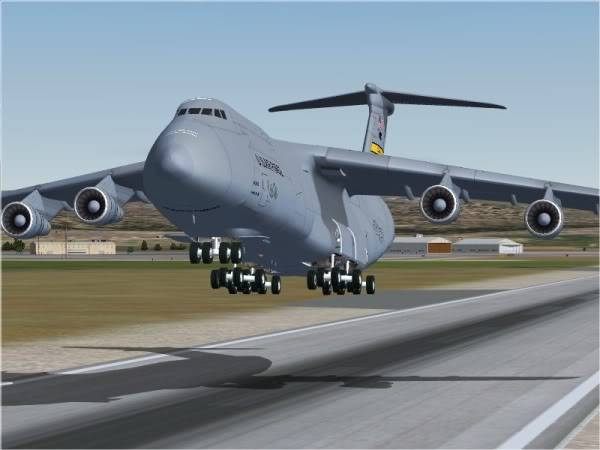 You're all excited because you finally got your hands on one, and boy, she's looking good, everything about this a/c feels right ❤️
--- trust me, you DO NOT wanna hear the lame 737 default sounds when you're spooling up the engines. A little research reveals that the Galaxy uses General Electric TF-39 engines.. and guess what? A genius who's also known as 'Mr. Submission' has made a soundset for this type of engines. And a good one it is, I know it because (of course) I've got it 😎
So what if you have an a/c and you can't find information which engines it uses? ...like the default 737-800 in FSX for example.
In this case you just search for a generic 737-800 soundset. Plenty of those available.
😀