Sam99 wrote:

I've installed the add-on Hornet F-18 and found some problems.
a. Didn't found any specific gauge folder, so I copied the four CAB files from the panel folder in to the FSX's gauge folder.
b. It seems that all the gauges are in the 2-D panel, however no gauges could be seen on the 3-D panel (there are blank windows).
c. After Burning is not activated.
d. Only two link icons can be seen on the 2-D panel (GPS and AP), where are the other?

Any advice will be welcome.
This is one of those "half-hearted-thrown-together-with-my-own-picture-in-it" uploads. I can't blame you for having problems with it. I'll just ignore the less than helpful Read Me First .txt file and show you what the panel (2D cockpit) looks like after my install: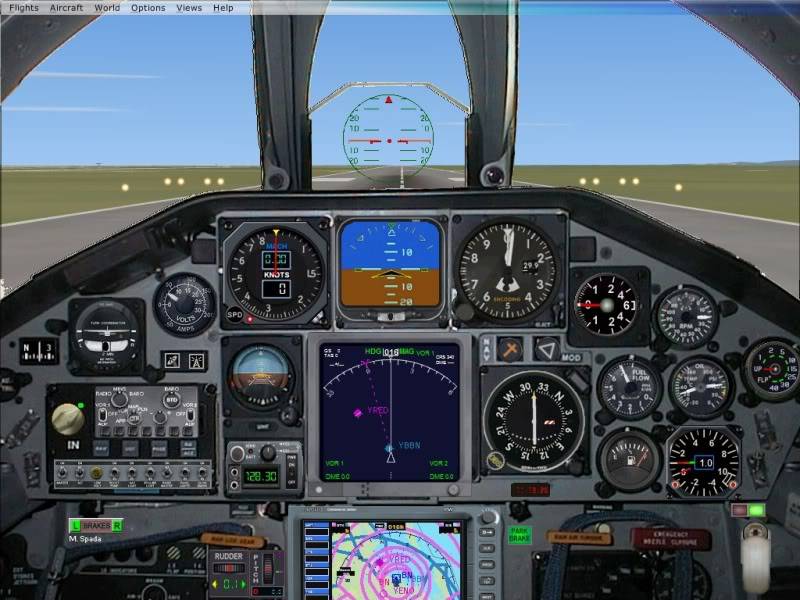 You: "..copied the four CAB files from the panel folder in to the FSX's gauge folder."
This is probably where you went wrong. The panel.zip has to be extracted to get to the panel folder. (Why the uploader didn't place the panel folder into the aircraft folder himself beats me

).
Allright, place the panel folder as is into the 'F 18 Blue Angels' folder.
You refer to the 3D panel (virtual cockpit?). I haven't learned yet how to access the VC in FSX, so I don't know what it's supposed to look like. Maybe my suggestion above will fix this problem.
Regarding the afterburner, this upload does not come with an afterburner, at least I can't find one. As far as I know, FSX does not have afterburner effects, so unless you've installed a 3rd party aircraft with AB effects, you won't have any.
I just flew Daisuke Yamamoto's original F-18 Super Hornet for fs9 to make a few comparisons. The original has ABs that kick in automatically and a functional VC.
I hope this has answered one or two of your questions

😀
PS: I just figured out I could access the VC by using <F9> in another aircraft. No luck with this F-18 though