Crazy Horse Airlines textures uploaded to AVSIM, type my name colin reece in the file search if you want them.
I made a tribute to the great Sioux Chief Crazy Horse, I named the aircraft "Oglala-Brule" which was the name of his tribe, the reg N1877CH the year he died, airline call sign "Dakota."
I have the aircraft stationed and flying from KFSD Sioux Falls to various places.
You can get the base model from flightsim.net look for file bspkmdwb.zip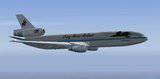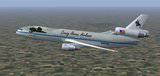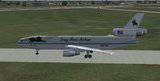 Col.
This one is really nice Col! Well done!
Wow, thank you.
It means a lot to me coming from you guys from the States, what I mean is I've done a theme that is from your country and I get compliments, thanks again.
Col.