Anyone know of an Essex class carrier, free or pay that might run in FSX?
Thanks in advance ... Art
Needle in a haystack Art... most customers are after the CVNs such as the Nimitz.
I think we'll have to narrow it down a bit. Assuming that you want a carrier with a hard deck I'll confine myself in this post to the only payware I know of.
According to this: http://ehistory.osu.edu/wwii/USNCV3.cfm the Boxer CV-21 belongs to the Essex Class.
Aerosoft has a package for FSX called 'Seahawk and Jayhawk' -- the Boxer is a part of this package, even though it's not mentioned in the title. There is plenty of documentation available (Aerosoft also have a very lively discussion board) - one of the better no-nonsense file descriptions is here:
https://www.simshack.net/manufacturers/nemeth-designs-30
A short excerpt from this description dealing with the Ships in particular:
Six ships included
There are 6 ships included that can be placed in any location using the Shipyard 2 tool.

* Coast Guard Marine Security Cutter, Large. Very modern off-shore interdiction cutter
* CG-50 (Valley Forge). Old style destroyer used to protect carrier groups.
* LCS-1 (USS Freedom). Low visibility stealth ship of the latest design.
* X-Craft (Sea Fighter). Experimental Special Operation and Patrol Operation ship.
* LHD-4 (Boxer). Large amphibious carrier designed to land and support 2000 marines.
* F-222 (Augsburg). Modern German air defense ship.

Shipyard2
This tool allows you to select a location for the ships in Google Earth and convert the resulting files into real FSX scenery. Very easy, very advanced and a lot of fun to use. Needs a Deluxe version of FSX!
As you can see, the LHD-4 (Boxer) by default appears to be available in one location only BUT you have the 'Shipyard2' tool.
My experience:
I have the old fs9 version which is simply called 'Seahawk and Boxer'. In this old version the Boxer is available at 10 locations... but it doesn't come with the 'Shipyard2 Tool' as in FSX.
The visuals are a delight, both the carrier and the Seahawk. Everything is so detailed, that I could never enjoy the package due to my inferior GFX card. I would think that the FSX version is demanding on the frames as well -- perhaps not as noticeable due to the .dds format in FSX... I'm merely hoping.
The fs9 version by default is not equipped for fixed wing COPs. Modifying a/c panels I remember being able to launch off the Boxer, but honestly can't recall the happy conclusion of the tale ie. the recovery.
This is all I know about payware Essex carriers for FSX.
Of course I've been turning the net upside down for freeware alternatives... I'm staring into a desert 😳 ...but as the saying goes, where there's a will there's a way. If I somehow manage to combine in my head everything I've found so far, I probably could build a working Essex Class carrier in my front yard 😀
Hi Folks
effieveda -
There's a Yorktown class USS Hornet (CV😎
available at - Carrier - USS Hornet CV 8 - WWII - (Pilotable/AI/Mission/Landable) (FSX)
NB
This is USS Hornet (CV😎, of Doolittle raid fame, sunk 27 October 1942.
USS Hornet (CV12) was the Essex class version.
Probably similar enough for your requirements.
EDIT -
Apologies I'd missed one - Carrier - USS Essex CV (FS2004)
Don't know whether she's CV-8 or CV-12.
EDIT
Just for info -
Boxer in Aerosoft - Seahawk & Jayhawk
is not the Essex class - USS Boxer (CV-21)
she's a Wasp-class - USS Boxer (LHD-4)
HTH
ATB
Paul


Last edited by basys on Mon Mar 03, 2008 8:21 pm, edited 3 times in total
No I know what he is talking about....he wants a current carrier, like the USS Ronald Reagan.....
The Boxer is a LHD.....a helicopter assault ship. If you use the Shipyard 2 tool you can place them as a static part of your scenery....you can also land on them.
I was using 3Dmax to build the USS Ronald Reagan, but alas....my modeling skills really sucks.

Edit: oops. I may be wrong......I got all excited and crap......

USS Ronald Reagan (CVN-76) is a Nimitz-class nuclear-powered supercarrier.
Essex class ships
USS Essex (CV-9)
USS Yorktown (CV-10)
USS Intrepid (CV-11)
USS Hornet (CV-12)
USS Franklin (CV-13)
USS Ticonderoga (CV-14)
USS Randolph (CV-15)
USS Lexington (CV-16)
USS Bunker Hill (CV-17)
USS Wasp (CV-18 )
USS Hancock (CV-19)
USS Bennington (CV-20)
USS Boxer (CV-21)
USS Bon Homme Richard (CVA-31)
USS Leyte (CV-32)
USS Kearsarge (CV-33)
USS Oriskany (CV-34)
USS Antietam (CV-36)
USS Princeton (CV-37)
USS Shangri-La (CV-38 )
USS Lake Champlain (CV-39)
USS Tarawa (CV-40)
USS Valley Forge (CV-45)
USS Philippine Sea (CV-47)
Thanks guys,
Here's what I was looking for. This is the ship I was on, way back in the fifties. If you look real close, I'm the one with the white hat. I'll fill y'all in later. Kinda rushed now.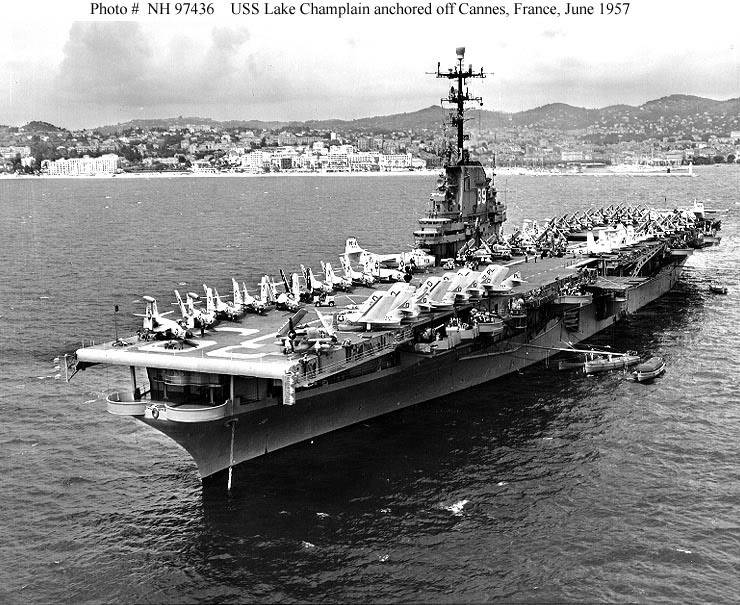 Later ... Art
CRJCapt wrote:

USS Ronald Reagan (CVN-76) is a Nimitz-class nuclear-powered supercarrier.

Essex class ships

...
USS Ticonderoga (CV-14)
...
ah yes, the Tico. I have some fond memories of that flat-top from when my dad was assigned to it. I will never forget being on board for full flight ops, the "contest" between the Tico and the Kitty Hawk for who could steal whose mascots, the stewards and the excellent food, and the memorial to the lives lost in the WWII kamikaze attack. I am sure I could dredge up a few others...
Well you guys are going WAY too far back in the days for me...... 😀
HOLY COW....
What have I started? How can I possibly thank all of you for your rapid responses? First, the reason for the post: I spent almost three years on the U.S.S. Lake Champlain and I am full of fond memories of that experience. The Navy did alot of great things for me....life altering in that it provided me with a fantastic education in electronics, which later turned into a very rewarding vocation. So I thought I'd have a go at seeing if I could re-create it in the sim.
Tailhook, you spent way too much time on my behalf, but I truly appreciate your effort. I'm afraid the Boxer package is a little beyond my budget, at least for now. Please don't build a ship in your front yard. What will the neighbors think???
basys, thank you for the leads. Unfotunately, the Hornet wouldn't download for me. I don't know why. I have a reliable DSL hook-up it's never caused any problems. I shall try again in a couple of days. The Essex downloaded ok, but is not visible in any view except cockpit and there all that can be seen are three portholes. Just for kicks, I "slewed" it into the water and it floats. Strange huh.
CRJCapt, thanks for the list. some of those old ships were "home-ported" with mine at Mayport, Florida. Please don't start singing "Memories". I'm liable to start crying.
PhilTaylor, my Dad served aboard the Bon Homme Richard right near the end of WWII. Thankfully, all but a few of the kamikaze pilots were left by then. Funny thing about a ship...it becomes a part of your life.
GundamWZero, if you're so young, why do you remember Rommel? Vuss he an olt frient of yours frum zee olt country?
Well gang, I've got to button this up for now. Someone has stolen some strawberries, but don't you worry, I'll find them. I kid you not! Now what did I do with those steel balls?
Warmest regards ... Art
effieveda wrote:

HOLY COW....

GundamWZero, if you're so young, why do you remember Rommel? Vuss he an olt frient of yours frum zee olt country?
Yeah.... Grandfather was Navy, but my Dad was Army, so naturally I am Airforce, right?
Nope.....got my wings clipped so, I am Army too.... 😀
Operation Desert Shield/Desert Storm 1990-1991-ish...
Operation Iraqi Freedom/ Iraqi Freedom II 2002-03/04-05
So as a ground pounder, I was interested in military history.....and from I can recall although Rommel was a brillant Nazi tank commander (most of our battle tactics comes right out of his playbook) he was also a humanitarian....playing on the wrong team.
basys wrote:

EDIT
Just for info -
Boxer in Aerosoft - Seahawk & Jayhawk
is not the Essex class - USS Boxer (CV-21)
she's a Wasp-class - USS Boxer (LHD-4)
Now it starts making sense, thanks for clearing that up. Two ships with the same name. Straight into the memory bank.
Hi GundanWZero,
Allow me to thank you for your service to our country. You are correct about Erwin Rommel, and if my memory serves, he was forced to pay the ultimate price for his beliefs. My remark was simply a feable attempt at humor. If I hurt you in any way, I am truly sorry. I consider myself lucky to have served during a period when we were not engaged in any hostilities.


Best regareds ... Art
effieveda wrote:

Hi GundanWZero,
Allow me to thank you for your service to our country. You are correct about Erwin Rommel, and if my memory serves, he was forced to pay the ultimate price for his beliefs. My remark was simply a feable attempt at humor. If I hurt you in any way, I am truly sorry. I consider myself lucky to have served during a period when we were not engaged in any hostilities.
Best regareds ... Art
No worries here Art.... I am not German....... 😀