Don't know if you are still on the market for a video card, but just in case, I'll add my 2 cents.
FSX is quite a different animal than most other 3D games. Graphics requirements are quite different too. Because of that, FSX is mostly CPU bound.
If you are looking for a video card SOLELY for FSX, you are fortunate. Mid range cards that are only average for most games are among the fastest setup for FSX.
At this point go with Nvidia line of Geforce, either 8xxx or 9xxx serie. ATI products, while very competitive in most games, don't work quite as well for FSX.
Some folks will tell you to go with the most expensive Nvidia card, in SLI setup if possible. Most of the serious benchmark I have found tend to say otherwise.
Cards like the 9600GT that go for $120 perform as well (or better) than the much more expensive 9800GTX or the GTX260. In any case, performance difference is less than a 2% in framerate, nothing you can feel.
This remains true even at fairly high resolution with (1920x1200) in Ultra High quality and with anti-aliasing.
Memory doesn't seem to effect the game all that much either. I wouldn't go with less than 512MB, but more than that doesn't make it any faster.
Check these benchmarks to get a better idea: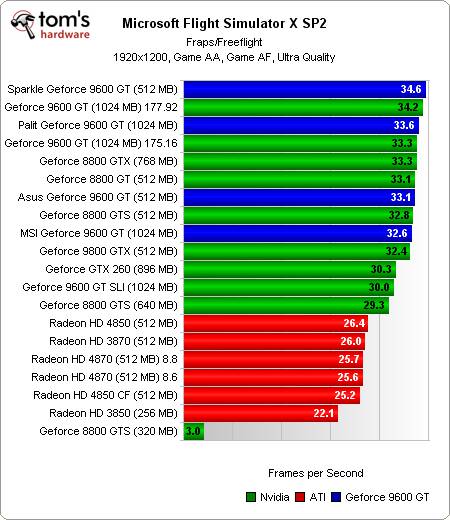 http://www.tomshardware.com/reviews/GeForce-9600-overclock,2028-18.html
Of course, all of this might change in the future, with more mature video drivers, other service pack for FSX or additional add-on modules.
But right now, I'd go with a 9600GT, 8800GT or 9800GT. Save money on the video card, spend more on 4GB or Ram and faster CPU. (or better components like PSU, motherboard and cooling if you're into overclocking).
R.[img][/img][img][/img][img][/img]