Having made 100's of 'copter flights to drilling rigs etc. I would love to do it in FS.
Having trawled past posts and topics the only thing I've come across is a download for 'rigs off Alaska which were only "look see". Anyone know of any download(s) for offshore platforms or structures that one might land on??
[[As an aside - yes radarman - took your advice from when I first made contact with FASim - I've just moved from 2002 to 2004 😎 but watch out for lots of new queiries no doubt! 😂 😂 ]]
I did a quick search on Hover Control http://www.hovercontrol.com and didn't see any offshore platforms, but they have lots of really cool heliports.
Thanks Noworries - from your hint found a mountaintop pad structure in Oahu (I assume in Hawaii) which approximates very closely in size but no cranes or legs to crash into!
Here are some downloadable oil rigs, whether you can land on them

.
Check the read-me carefully

, some may require pay-ware scenery to be added.
Be sure to get the right setting in the sim so they're "solid".
http://library.avsim.net/search.php?SearchTerm=oil&CatID=fs2004scen&Go=Search
Glad to see that you now have FS9, I hope you enjoy the new improvements, questions...ask away, the members here are a very helpful group.

I found 3 platforms just northeast of Galveston Island,TX. Look for a regional airport in that area. The rigs are about 10 miles off shore or less. I came across them a few weeks ago when I was on a flight from DFW to TPA in a MD-83. As I passed over Galveston, TX and entered the Gulf I could easily see them at 14,000 feet. I was on my climb to 30,000. Look for them in the General Galveston or Houston shorelines. I do not know if they have landing platforms.
TIP😛erhaps take a single-engine or twin-prop small aircraft out of IAH or HOU or Galveston to locate them first. Then take the copter to the rigs.
AstroSteve

Hi Folks
verygom -
If you are still looking for offshore platforms
please have a look at - ODG-UKEZ-Offshore-Scenery Packages-Released
PS
We'd been developing these over at Hovercontrol sinc Oct 2004.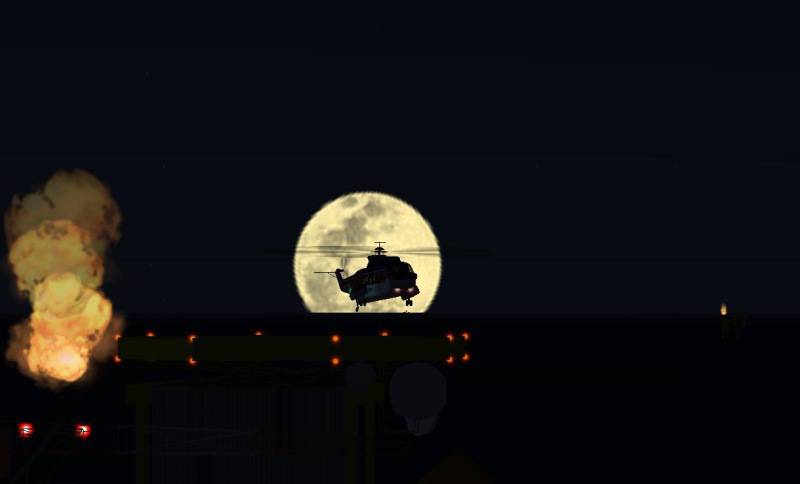 HTH
ATB
Paul