k_camacho11 wrote:

I usually land my plane by having the NAV/GPS switch set to GPS and setting the approach on my GPS, then the autopilot lines up with the runway pretty good. But I just wanted to know, that if u have the NAV/GPS switch set to NAV, along with the Runway ILS frequency set in the NAV1 Radio, will the airplane lineup with the runway better or will it be the same? Also...what does the ILS button in the A321 do? Thanks.
First off, see if this helps you:
https://forum.flyawaysimulation.com/forum/topic/8080/ils-approach-guide-tutorial/
The GPS is a lateral feature meaning that setting up a predefined route and following it will only follow left / right - so no altitude coverage is involved. This means that if you select Vectors To Final on your GPS and hit NAV when the GPS/NAV switch is on GPS, then you will follow the vectors to final aiming straight down the centerline - however you will not descend. This is a fairly unconventional method and can only be described as some sort of a GPS Approach.
However, if you are:
- Switching GPS/NAV to NAV
- Inputting the ILS frequency into NAV1
- Activating the radios
- Inputting runway heading into the CRS heading
...and becoming established on the localiser, then you will see on your HSI a center fixed arrow and two lines that tend to wobble about either side - similar to the below: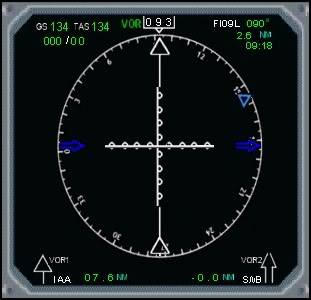 This allows you to fly by hand or by autopilot. By hand you will be following the needles both vertically and laterally down to DH (lowest possible height AGL before you must go around with no visual reference to the runway) or engaging the ILS button (approach hold) will fly the approach for you.
Principally, in answer to your question, it won't "line up better" - it'll enable you to descend in the correct profile and line up on the centerline. You former method will only line you up on the centerline. You can always do this and descend of your own accord using the PAPIs as guidance.
I hope that helps 👍