My graphics are set to highest, but when i go to free flight, my 747 JAL airliner is like its on minimal graphics. so is everything else. Whats the problem?
well fsx works differently than fs2004 notby a lot tho so here if you put the details on your aircraft to ultra high it wont change alot u have to put uuuuu i forgot it was called its the first slider above the aircraft quality anyways turn that up if it doesnt work fiddle with the sliders and youll get it were you want it
ITs at ultra high, in free flight it is in the minimal quality though..
Whats your system specs? Maybe you computer cant handle it, even though you can put it all the way up.
1 gig ram
6200 geforce,
ive done it before..
but it wont work now..
I dont know much a nvidia graphics cards, but I assume that the 6000 series is less powerful than the 7000 series, and the majority of the 7000 series cant power full scenery settings. Because the 747 is a more complicated aircraft it is harder for your card to produce the graphics. I would guess that this is the problem. However, dont take my word for it. I may be wrong and would suggest that you wait for a reply from someone who is more experienced.
Razgr1z912 wrote:

1 gig ram
6200 geforce,
ive done it before..
but it wont work now..
Not enough RAM.....
Very shallow graphics card....
And I don't know your CPU type.
But judging from your problems, you will have switch back to the default graphic settings on FSX. You don't have enough power from your hardware to run FSX with the sliders at 100%.
Yeah the planes too big to render it with quality. Smaller planes are fine. Its a Compaq.. Lol.. Cheap thing out of store. Im getting 2 gb ram for my bday in like 15 days. Think i need a new vid card? And what other info would you need to tell?
Heres some stuff
Processers:
AMD Sempron(tm) 3000+ ( i have two 512mbs Its a pc333+ and pc400+)
Display Adaptors:
NVIDIA GeForce 6200 (im doing some update drivers for it now)
Computer:
APCI Uniprocessor PC
Im running windows xp pro.
Thats all i really see that might be important.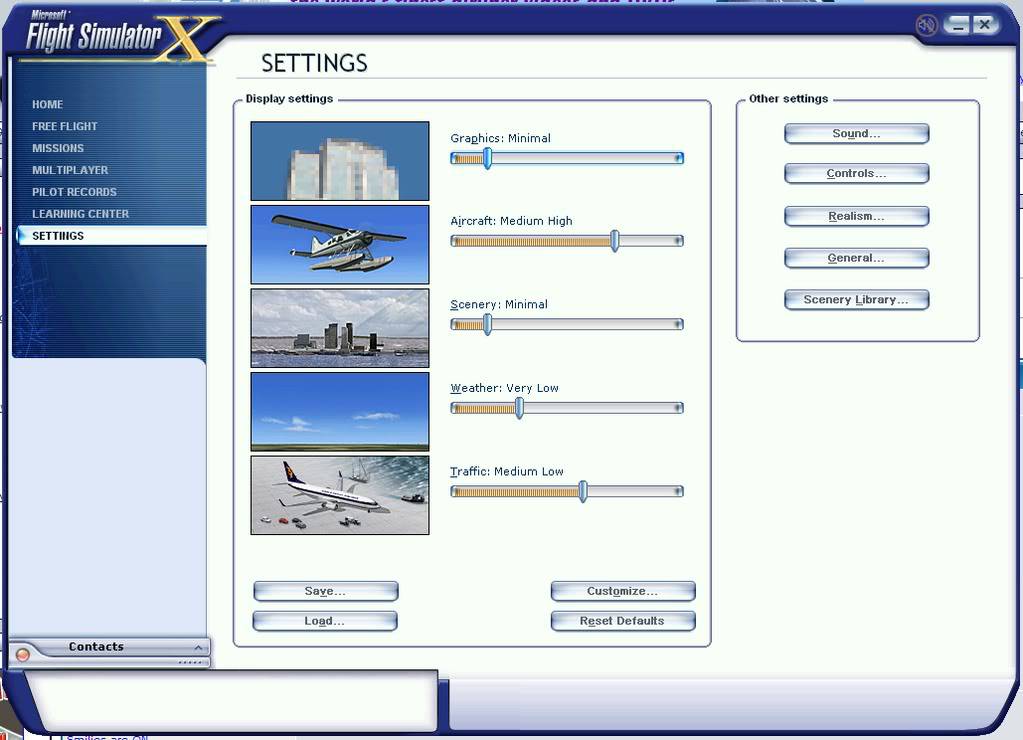 Im also getting around a 7200 GeForce, is that good?
Your graphic card is low, thats for sure. The 7200 is a good start, but you won't get the graphics that most here are achieving. Once you start using FSX graphics settings, particulary the traffic settings, that AMD processor will not be able to keep up.
Whats a good card? 7800 or so?
You want to go with the 8800 gts 640. Save your bucks for this one. You also will be ready for DX10.
I have just bought the sapphire x1950 pro 256mb ddr3. It is about £90 new, and is very powerful for the price. In fs9 I get fps at where I have locked them (50,) in a pmdg aircraft in heathrow with lots of added scenery, sliders full. I am sure I could push it higher but old habits die hard!
Wow mossy can you give me a link for this graphics card ➡ ❓
http://www.kikatek.com/product_info.php?products_id=22349.
This is the card. Actually today at the beggining of a flight the fps went down to 26ish (which is still fine,) but it soon went back up to 49/50. I think it may be something to do with me testing out different resolutions for fs9 over a short period of time before reverting to default. According to computer shopper, where it received a 5 out of 5 reveiw it can 'get 39.5 fps in call of duty 2, prey and dark messiah at 45.5 and 47.1 respectively, and even get playable fps in prey and dark messiah at 1,600 x 1200 with 4x anti alaising enabled.'
I figured someone will mentioned ATI ..... 🙄 ATI cards are problematic. That is why everyone are switching to the 7900 series to the 8800 series from NVidia. But do what you can afford, better yet compare and see for yourself:
ATI Sapphire Radeon X1950:
http://www.kikatek.com/product_info.php?products_id=22349.
WARNING: Specification for this card is sketchy....
nVidia GeForce 7900GS:
http://www.newegg.com/Product/Product.aspx?Item=N82E16814150174
alright ill tell ya how it goes with the card
I bought it solely based on the computer shopper reveiw, where it performed much better than the nvidia cards (relative to the price.) I have made a few purchases based on thier reveiws, and they havent failed me yet. Sure, with my last card (which was ATI,) I had a couple of driver problems but nothing terrible, and I am yet to find any at all with this card.