Today I was reading the Popular Science magazine and I came across this: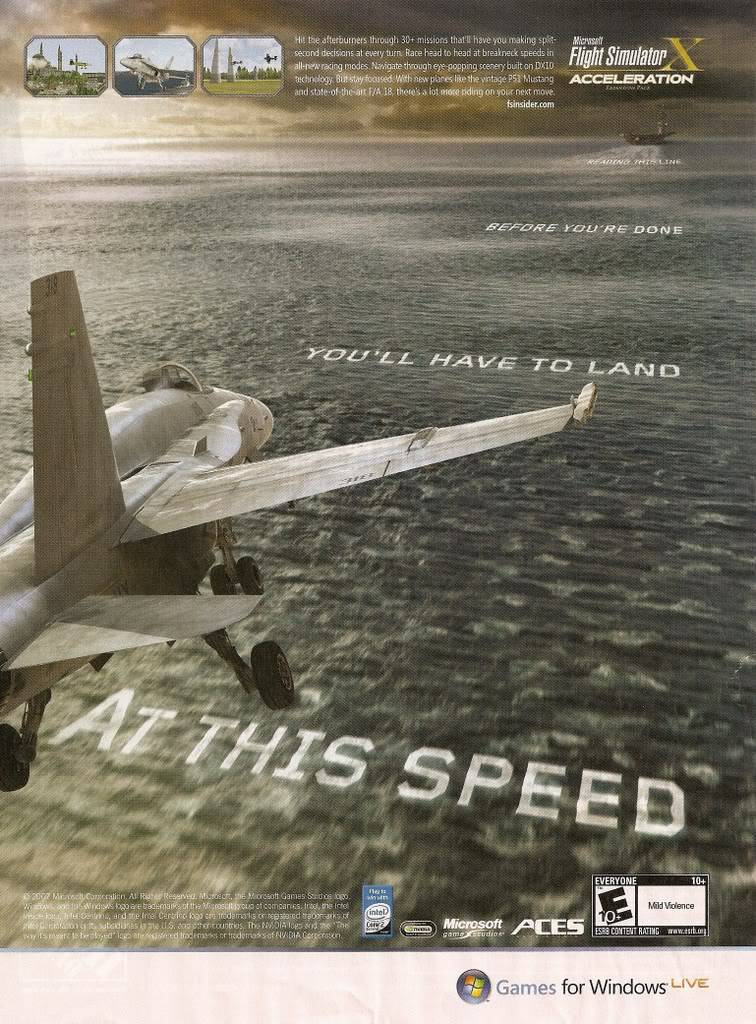 GameSpot also has some screenshots of FSX Acceleration at http://www.gamespot.com/pc/sim/flightsimulatorxadrenaline/images.html?mode=official.
Some of GameSpot's screenshots:
FSX Acceleration is coming Fall 2007. Also, Microsoft's FSX Acceleration site is at :http://www.microsoft.com/games/pc/fsxacceleration.aspx
The Flight Simulator X Acceleration Expansion Pack delivers an all new thrilling multiplayer race mode, new action-packed missions, more new content, and newly enhanced DX10 graphics!

Challenge friends in the new racing mode, or test your flight skills in the 20 new missions like being a NASA test pilot, performing search and rescue on an ocean liner, or navigating a whiteout blizzard in the backcountry. Also included are six new scenery maps including the famed Red Bull Air Race courses, and three new planes such as the F/A-18A Hornet, EH-101 Helicopter and P-51D Mustang.
-Orion
has there been any release date given other than "fall of 2007"?
Not that I have heard of. I would think it is coming soon though, because they are already starting to advertise.
Hope this helps
-Orion
Saw an article on this in PC Pilot magazine, it should be out for Christmas.......if we can run it 😳 .
Its a shame I can't test it currently 😞
Had a fire and everything (including house) was destroyed. I'm hoping to be back up and running soon.
BTW - Don't ask me about it. Its under an NDA.
Are you serious 😳 Man I wish I could help man, but i'm over the pond 😞 Hope everything works out 🍻
Thanks. Insurance is sorting everything and my uncle has kindly given us his old computer (quite a good one too) so I can put my hard drive (which I salvaged) in it and resume flying (and testing Acceleration).
BTW - Sorry to hijack the thread