Hey, kinda bored today so I downloaded this new skin for my XP Pro and it comes with different icons too, looks prettny nice, I haaad to come up with new wallpaper too


. So here you go, and DONT FOR GET TO POST YOURS TOO !

I didn't use my actual desktop, I used the picture




This is the picture I have on my desktop! My national airline.


Should of known you would have an air canada plane in your desktop cobra.
That triple 7 sure is majestic!
I missed the memo... all I have is landscape scenery on my desktop... no planes.
i change mine every few days, as well as the appearance of windows. i have alot of non-microsoft stuff that i think is pretty neat, appearances, themes, etc. below is just the one i have up today.
i wanted to show off this little tid bit as well, how do you like my start menu?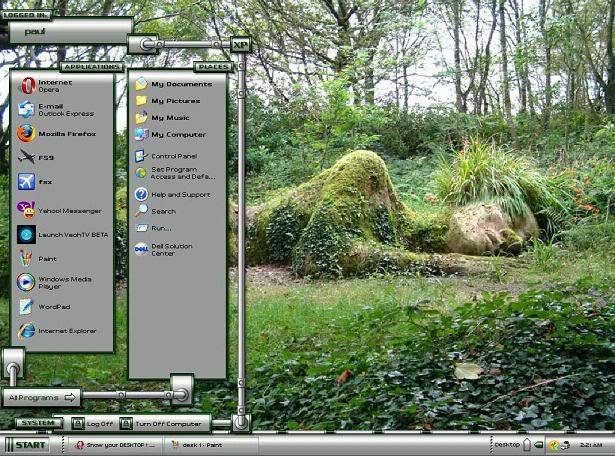 Last edited by cheezyflier on Mon Oct 29, 2007 7:49 pm, edited 2 times in total
they are cool


Lovin the Ma Nature wallpaper!!!
This is mine:

Here is my desktop. It's a photo of me and my sisters with our friends when it was last very snowy (I guess about a year ago.)

i really don't understand why so many of you choose to have those ugly desktop icons plastered all over the cool pics you put up as wallpaper. do you folks know it is possible to have a desktop free of icons, so that you can easily get to them but not have to look at them? look at the pics i posted above. the first one is my actual desktop. not a pic of it. that's what i see when i fire up my box. look at the next pic. you will see my desktop with the start menu, but look at the tray at the bottom. see where it says desktop? all my shortcuts are there, easily accessible but i don't have to look at them when i don't need them. see the pic below:
just for fun, here is another example:
mossy wrote:

Here is my desktop. It's a photo of me and my sisters with our friends when it was last very snowy (I guess about a year ago.)
LOL i still remeber that snowy day me and some mates when over lee vally if you do live in london you should know it.
Great fun


Since I have Vista, I have active wallpapers. So no need for boring desktop wallpapers, my wallpapers move.
My new one






nice one! where didja get it? are there others there? how about a url?
It was the photo of the day, from airliners.net




http://www.airliners.net/
cool site, thanx for the hook up!
cheezyflier wrote:

cool site, thanx for the hook up!
No prob


Would be a member but it's a rip-off IMO. $999 dollars for bloody lifetime membership. I payed five here!!


I saw that too Cheeks... I was like umm no. I can see spending money for addons for FS9 but money just to be able to look at pix that I can see for free??? NO. I do not need the 1600 x 1200 version.
I used to be a first class member at airliners.net. They charged me $15 for 3 months.


As Bel said it's not worth it.


Cheeks wrote:

My new one
I really like this picture. Such nice colors and beautiful aircraft taking to the skies from the water. Just Amazing.


i know this is a old thread but heres mine

note: there is a space between the 2 applications and that is because it showed my facebook name!
I just do a free membership and just add my fav. pics to my favs. Also I see we have some members here that like to get payware items for free


. Here is mine I also change mine almost everyday: I was going to cleen up everything, I got some more games that I deleted the shortcut on the desktop but I keep wanting to get to the fs2004 etc.