I went down to my local PC store and got myself a 1GB stick of RAM, plugged it in at home, and booted up my PC only to be told "There have been significant hardware changes been made and you must re-actiavte windows xp"
Problem: I have already used my activation key on my legal copy and once I phoned up the Microsft help line they only confrimed this and did not help at all 😳 I can't contact the shop I bought it from as it is Easter weekend and the shops are not open for the next two days- the same amount of time I have been given to re-actiavte windows 😳 😳 😳
What can I do??? Someone please help me, I am desperate here ❗
Also, I started up FS2004 with now 1.5 GB ram to see the impact my $160 of spending had done. I went to YBBN (Brisbane) where I normally get a lag of 6FPS heading towards the city centre, and now it ran semi-smooth at 14FPS.
I tried GTA San Andreas and Need For Speed Most Wanted and did not notice any difference. I then tried SimCity4 and still recived the same lagg I had before I installed my new RAM.
The question I have is, did I put my new stick in the right slot? Before hand I had two slots, #1 with 256mb in it and #2 with 512mb in it. All I did was swap the 512mb in #2 for the 1gb stick as in the diagram below: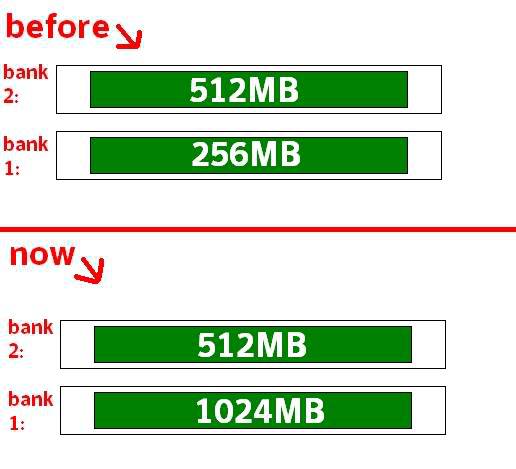 Is this correct or do I need to swap my sticks over in order to recive better preformance or something. Control Panel registers I have 1.50GB of RAM so i'm not sure what to do...what effects should I be seeing on my PC now I have upped my RAM?
Please help ASAP
Thanks in advance-
Andrew