Does anyone have watercooling or has had it? I just want to know how good it compares to good old fans?
BTW wouldn't you be kinda scared of having water run through your precious computer? \o/
I'm thinking of getting it in the next couple of months. You can reduce the heat by upto 30-40%. Have a look at the latest Micro Mart magazine from WH Smiths. There's a bit about water cooling in there.
Also with water cooling yuo will be able to overclock your CPU & VGA CPU quite abit compared to air cooling.
The only thing I worry about is how does it hold up for 3 or even 5 years. One leak and your toast.
I know it superior not only for cooling but it's silent.

I love to hear Fans sound 😀 😉
Well my latest board, ASUS dual-core 939, has passive cooling, it's very good, the fans are controlled and unless the cpu is violently busy, the fans can hardly be heard. The board has a small finned radiator style heat disperser, coupled via heat transfer piping to the bridges, and this rad is placed right in the main air flow, and it makes a great improvement.
Water cooling obviously works, but it is not something that I'd be at mind's rest with, as RM say's, one leak and it's toast, I'll stick with the fans. 😉
i have known of someone whos watercooling pump failed. Their CPU automatic turn off when it gets too hot also seemed to have failed, causing the computer to have a meltdown while the owner wasnt there!
(wonder if that made sense 🙄 )
My old Apple Power Mac G5 dual 2.5 came as standard with Water cooling, it worked flawlessly for about 2 years - one day I went to turn the machine on and nothing... checked the power cable only to find a pool of cooling liquid on the floor. It's pretty corrosive stuff, it started eating into the case.
Apple replaced my old G5 with the new Quad 2.5; thankfully I took out the extended "Apple Care Protection plan" when I purchased. Apparently, I was the first case in the UK with this problem 🙄
Even my new machine comes with the message, "In case of liquid, turn off immediatley" or something similar.
Is it worth me taking a few pictures?
If possible Flyaway. That would be great
Pics of Power Mac G5 Quad 2.5: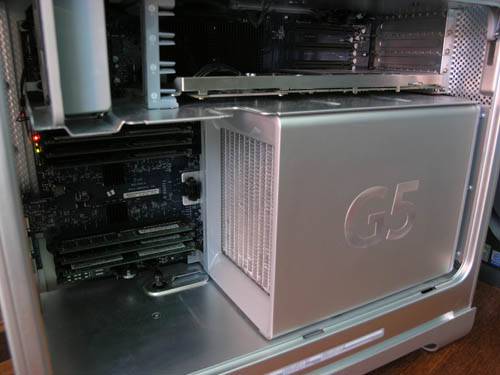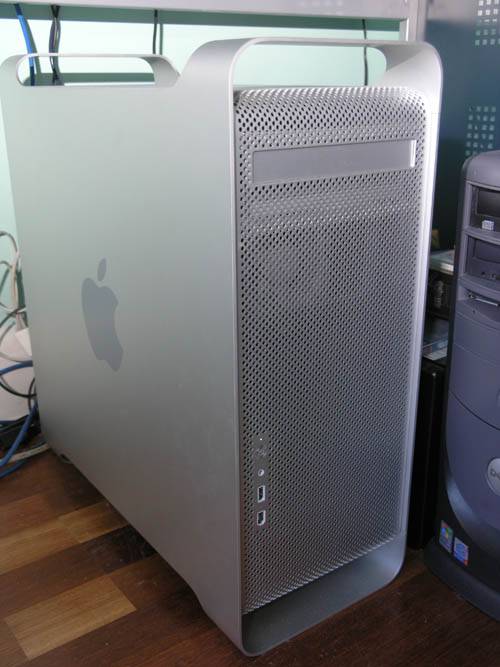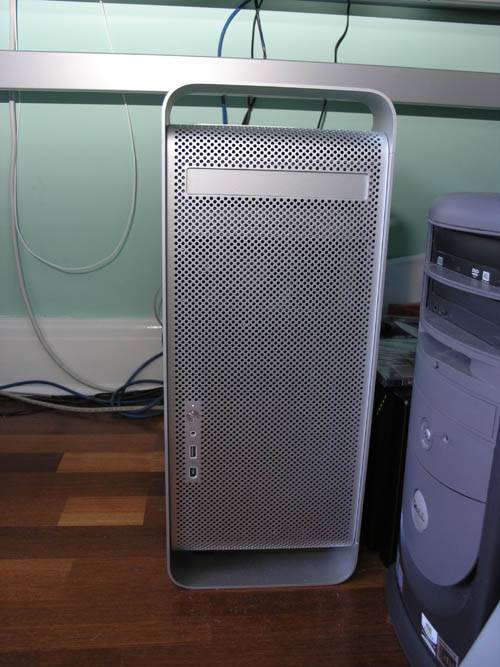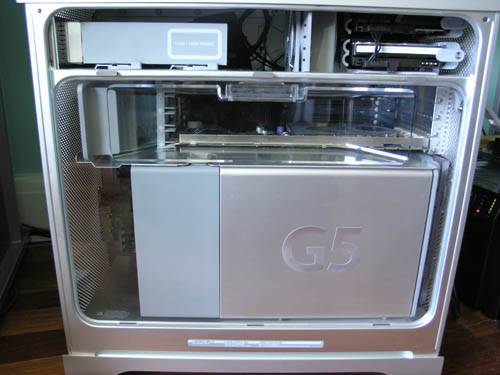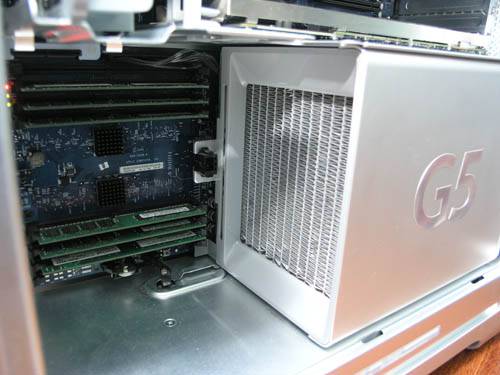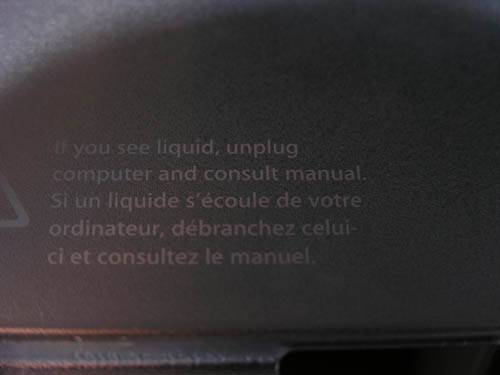 flyaway wrote:
I see a pool of liquid coming out of my computer, but when i unplug it the manual doesn't say what to do.
Apple sent you £1700 of kit! Nice. How good is it anyway? Work well?
cheechm wrote:

Apple sent you £1700 of kit! Nice. How good is it anyway? Work well?
I'm afraid I paid quit a bit more than that for it 🙄
It's a great machine, perfect for video/photo editing and CPU intensive tasks. Generally very fast all round. It also runs Mac OS X - an operating system based on BSD, which I'm very familiar with.

Nice wooden floor... 😂
Greekman72 wrote:

Nice wooden floor... 😂
Thank you Greekman.