Checkout the specs. "Our most powerful computer ever!".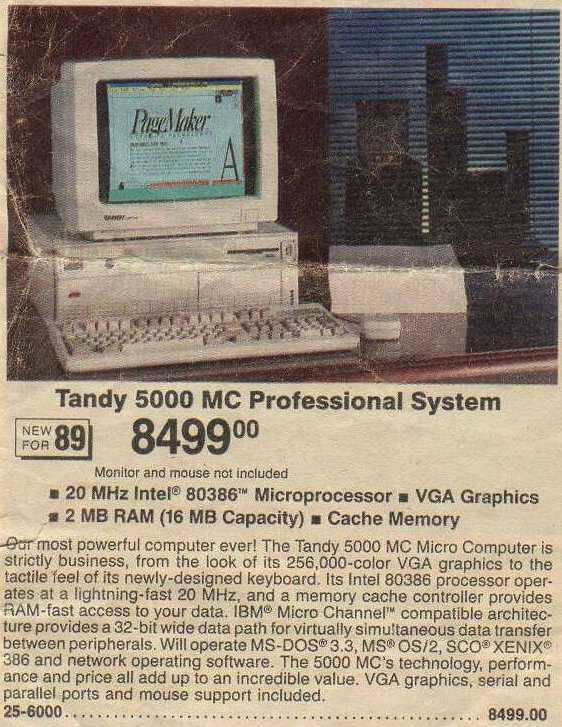 Lightning fast 20mhz!!!I want it! What a bargain!Only 8499$!!!My dream pc for fsx! 😂 Great find CRJ, Thanks for that!
ahh yes, the good old days of dos...
but just think-
year 2020.
"Haha, remember those fools in 2006, using their $10000 dual core pentium 4 with 3Ghz! They shouldve just brought a quad core pentium 14 with Mega Hyper Technology and 21Ghz."
😎
CRJCapt, where did you get that ad?
Something about it makes me suspicious that it isn't what it seems-- $8499 sounds very high for a computer without a monitor at that time, especially a Tandy (Radio Shack). IBM PC's had been on the market for several years in '89, and several other makers were in the market, so I wouldn't expect a "cheap" IBM-compatible like Tandy to cost that much.
And the dollar sign doesn't actually appear, which would be very unusual in a US publication. Maybe it was pesos or lyra or something. Could it be an English-language publication in another country?
Ed
Guest Ed wrote:

CRJCapt, where did you get that ad?
99jolegg wrote:

Does it run FSX? 🍅
No DVD-ROM support. 😞
I don't think it costs much now. 😂 😂
Ed is right,
IBM sold machines in 82 when I bought my first Vic.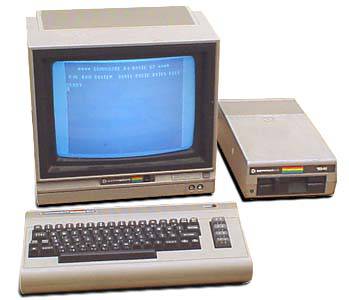 This is a Commodore 64. I actually have one of these in my garage, somewhere. I even have a modem for BBS. 🙂
➡ http://en.wikipedia.org/wiki/Commodore_64


Last edited by CRJCapt on Wed Oct 25, 2006 1:48 am, edited 1 time in total
Yeah, I spent some time googling for 1989 computer prices. The most expensive machines I could find in 1989 prices were Apple Machintosh II's, and they were only ~$6500 including a monitor.
When the IBM PC came out in 1982, the base model sold for $1600. I can't believe any Tandy ever made cost more than any IBM.
According to this Wikipedia article, a Compaq 286 sold for $2000 in 1985, and Compaqs have always been a bit more "upscale" than anything sold by Radio Shack:
http://en.wikipedia.org/wiki/Compaq#Deskpro_386
I found another article from 1992 that quoted Pentium II models as going for around $2200.
Computer prices have always been about the same; a decent mid-level desktop for business would cost you ~$2000 now (not a high-end gaming machine, obviously), but of course you'd get a somewhat more powerful machine than 20+ years ago. 🙄
I don't believe Tandys were ever that expensive; I think someone doctored the price in that ad. That price is WAY out of line.
Ed
CRJCapt wrote:

I agree Ed. 🙂
I'm glad to hear it. I thought you MIGHT be offended by my critique of your post. 😉
Ed
Nice. I remember my father bought an Apple IIc for the family in 1985 for about $3,000!!
Appleworks came with it, a primitive operating system. And, of course, he also bought MS-FS for me, as he knew I loved airplanes. All those departures from Miegs Field in glorious monochrome green!!!
😎