Hi,
Could anyone who owns the new Dreamfleet 727 please confim whether it includes a functioning INS ?
(ie... similar to the one that comes with 747 RFP,or PSS Concorde?).
THANKS !
I am about to take some leave from Delta Virtual Airlines (clocked up 28 flying hours with them in a month), and go off and work for FED-EX in the states on the 727 fleet.....
I'm tiring of modern automation at the moment, and am craving for getting back to having to set the NAV radios for each and every VOR (without the luxury of a FMS doing everything for me!)....
.... and really spend time plotting my routes and navigation.
The 727 is fab for this type of flying - a very fast (quite large) jet but with only a basic AutoPilot and no FMS.
I have a list of the scheduled Cargo routes in the states (including Alaska, Hawaii, and also to Canada) and they are FAB - a real difference to the Delta schedules which do tend to present quite predictable routes.
At the moment I have the wonderful Captain Sim 727 which comes with a Drop dead gorgous Fed-Ex livery but I am considering buying the Dreamfleet 727....
..... but it's hard to justify buying a 727 for $32 when you already have a fantastic 727 !
The Dreamfleet plane comes with a fantastic Weather Radar and also some other goodies, but the INS would win it for me, as I want to cross the Atlantic to Africa (one of the real schedules) and need the INS to navigate this.
Thanks for any info on it !
😉
Ahh!
I done some digging and found that the Dreamfleet 727 does not come with an INS.....
I downloaded the full manual (172 pages) and it tells you in the manual that you can get a freeware INS from AVSIM and you then have to make some pretty significant amendments to the Panel.cfg file.
It states in the manual that this works and is easy - but you have to ask why they didn't just include it if it's that easy ?
Anyway, if anyone does have the Dreamfleet 727, it would still be good if you could let us know what it's like ?
😂
I understand that you can download the INS panel for the dreamfleet at this site.
It was only on some 727's, so they did not include it
Seeing as you have the instructions as how to integrate the INS,can you not fit it to the panel of the 727 that you already have?
Very good question Mr T, and that there little project is exactly what I have planned for this very evening.
I'm no whizz on FS file maintenance but I am going to try and copy the INS panel from the 747 RFP panel and paste it into the Panel.cfg file on my Captain Sim 727.....
Will let you know how this goes. 😂

Good luck
A tip for you,make sure the gauge numbers follow,ie 10,11,12
I'm almost there but had to stop "mid-project" and haven't had any FS time for a few days.
Will let you know how it goes. Thanks for the tip TTT.
I have some great instructions that are for installing a Cabin Crew / Ambience sound guage to any panel...
So I reckon if I follow it but relate it to the INS it should work out.
Enjoying some fab Fed-Ex 727 flights at the moment. 😉
GPS,
Happy flying with Fed Ex. I have been flying the Fed Ex 727-200 Vista Liner in the sim and it is a great A/C. Very stable. I recently flew a leg from KDFW to KCRP and captured the screenie below. Converted it to watercolor for desktop display.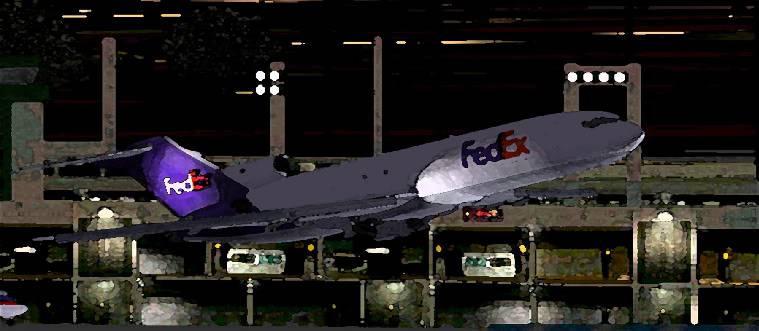 B727-200 Vista Liner.


Last edited by George (OrlandoGeorge) on Sat Apr 23, 2005 3:31 am, edited 1 time in total
on www.flightsim.com they have an INS which i downloaded. but i have no clues how to operate it. but it looks very real.