After a discussion in another thread about the worlds biggest aircraft, I went down to the libary to get out some books, and discovered a HUGE plane called the "Super Guppy" (See here: http://en.wikipedia.org/wiki/Super_Guppy ) which I then learned was succeded by Airbus, who built this plane known as the A300-600ST "Beluga"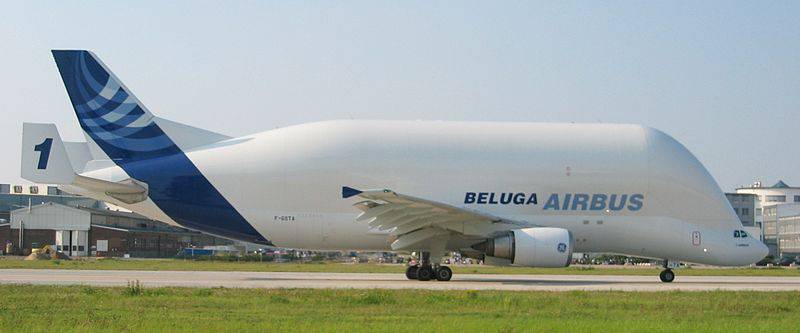 Untill today I had never ever heard of it, and as it is so compleatly bizzare, and a bit of a novelty, it intreged me to do a bit of research into it:
The Airbus Transport International subsidiary of Airbus operates a fleet of five A300-600ST known as Belugas – the world's largest cargo carrier. These aircraft perform regular airlift duties for Airbus, carrying fuselage sections and wings between the different European production sites, and they also are made available for chartered commercial flights.

A wide range of commercial charter missions have been performed by Airbus Transport International, from airlifting a 17.6-meter-long x 6.5-meter-diameter chemical tank weighing 39 metric tons to transporting a large French masterpiece painting.

Space hardware manufacturers use the Beluga for reliable charter flights with payloads that have included space station modules, launch vehicle hardware and the most delicate satellite payloads. A pallet-mounted heating module provides a comfortable environment for spacecraft and other cargo that require temperature-controlled conditions.

In addition, the Beluga offers unique transport capabilities for the military airlift market, providing the largest main deck cargo compartment of any aircraft available today.

The Beluga is a highly modified version of the A300-600 and features the widest fuselage cross-section of any aircraft, civil or military. Its main deck cargo volume is greater than the Lockheed C-5A Galaxy, Antonov AN-124 and Boeing C-17. Tailored for the transport of heavy and voluminous cargo loads, the Super Transporter is able to carry a payload of 47 metric tons (103,616 lb.) over a range of 900 nautical miles (1,667 km).
For those who are interested, here are the A300-600ST specs:
Length: 56.16m
Span: 44.84 m
Height: 17.34 m
Wing area: 258.8 m²
Fuselage diameter: 7.7 m
Weight empty: 86.0 t
Maximum take-off weight: 153.9 t
Range (at 40 tons): 2,780 km
Range (at 26 tons): 4,630 km
Cargo capacity: 47 tons
Cargo volume: 1,365 m³
Cockpit Crew: Four
I know it is a modified A300, but is it the biggest plane in the world?
...I still can't get over how weird it is 😕
Visit the official website here: http://www.airbus.com/en/services/airtransport/
And check out CLS's payware version for fs2004 here: http://www.airbus.com/en/services/airtransport/
Also, see wikipedias description of it: http://en.wikipedia.org/wiki/Airbus_A300-600ST