Hi people,
I have a question regarding my instruments on my new C206, which properly has a very easy solution, so please excuse my n00b lack of experience 🙄
What is happening is that my cockpit instruments give me a different reading for altitude to the reading on the red line of text at the top of the screen (which appears after pressing shift+z)
Look at this screenshot below for example: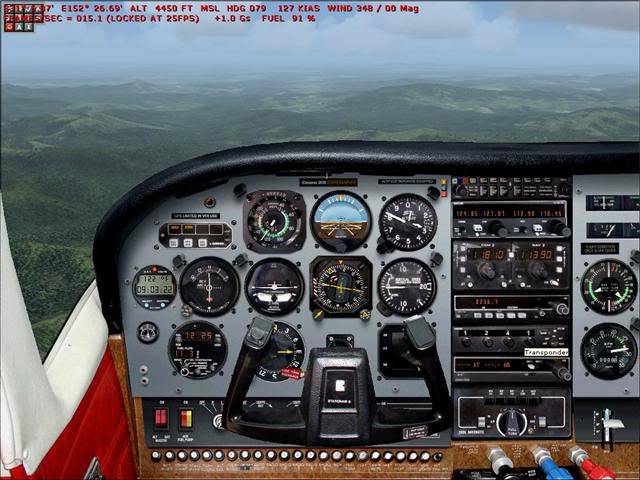 The altimeter reads 2800 feet, but the red text shows 4450 feet ❓
What am I am missing? Is there a simple setting on flight sim to set the altitude above ground level before you start your flight or something, I seem to remember the pilot doing that when I got to fly a real plane last year...
Again, please excuse my ignorance, I would be most grateful if someone could explain what I am doing wrong

Cheers
That's a large difference. Try hitting [B] to reset your altimeter setting. 🙂
Thanks CRJ, that solved me problem 🙂 It's still annoying me though because everytime I start a flight in the C206 I have to always reset my Altimeter... is there anyway to advoid this?
Set weather to Clear. The default altimeter setting is 29.92. With clear weather, the altimeter will always show your Field elevation (MSL). Using Real weather or preset weather scenarios results in a different altimeter setting so you get the error in altitude. There is nothing to fix, that's the way it is suppose to work. In real aircraft, you have to set the altimeter before every flight and update it no more than every 100 miles. 🙂
Thanks again- all sorted now 👍
As I said in the other post, please excuse my lack of knowlage with the instruments, I prefer to fly with "Spot Plane View" (best for screenshots :wink🙂 and use the red line of text for my referance.