In my current flight adventure of recreating flights in the 2004 default flights, https://forum.flyawaysimulation.com/forum/topic/23275/pre-programmed-flights-in-fs2004/ I continue to learn some pretty fun things relative to flying.
Currently I'm using the Vickers Vimy to fly from London to Australia trying to adhere as much as possible to what navigational tools they had in 1919.
As a result I've experienced a good deal of satisfaction in managing to hold compass headings without gps, looking at coordinates, or looking to the sim's map to show my current position. (As you will see in these shots the coords are at the top of the screen but I refrain from looking at them and matching them to the map at my elbow.)
One of the big challenges to holding a course is cross winds.
I want to share some graphics I made to firm up the technique I use in my own mind, hoping they might also be helpful/interesting for others that are new to the particular challenge of wind. I realize that for most of you this is old hat.
Here is the challenge and some things to think about.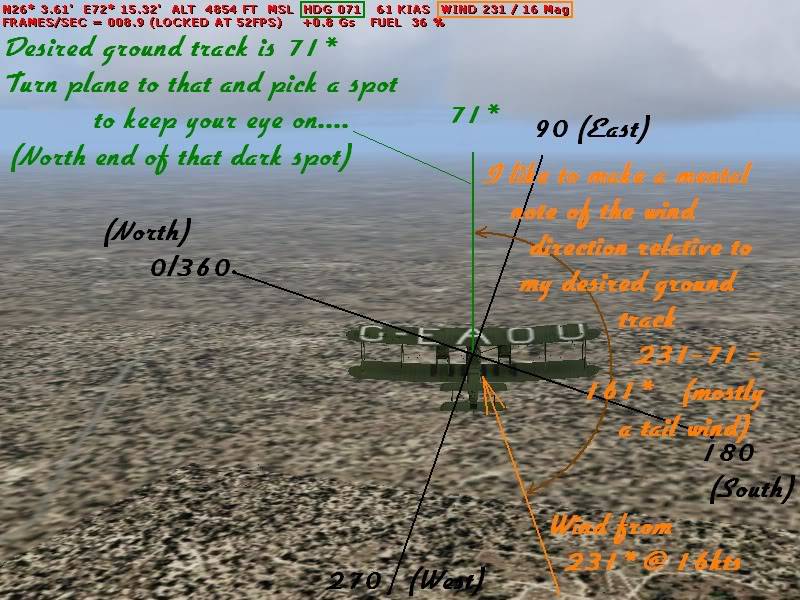 An invaluable tool.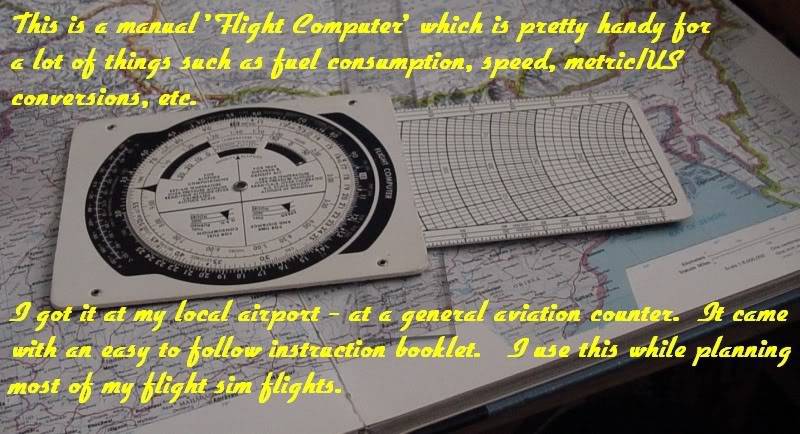 Angle and strength of wind.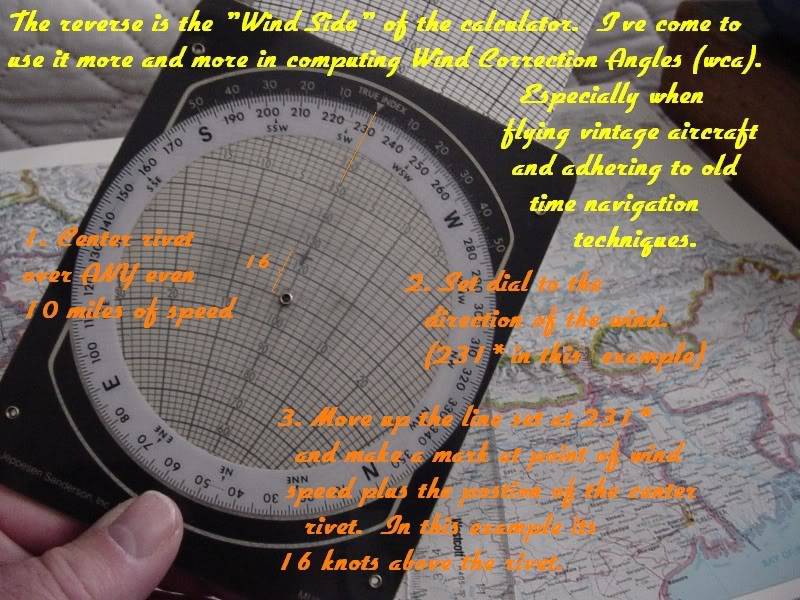 Wind Correction Angle and Ground Speed vs KIAS (indicated air speed in knots)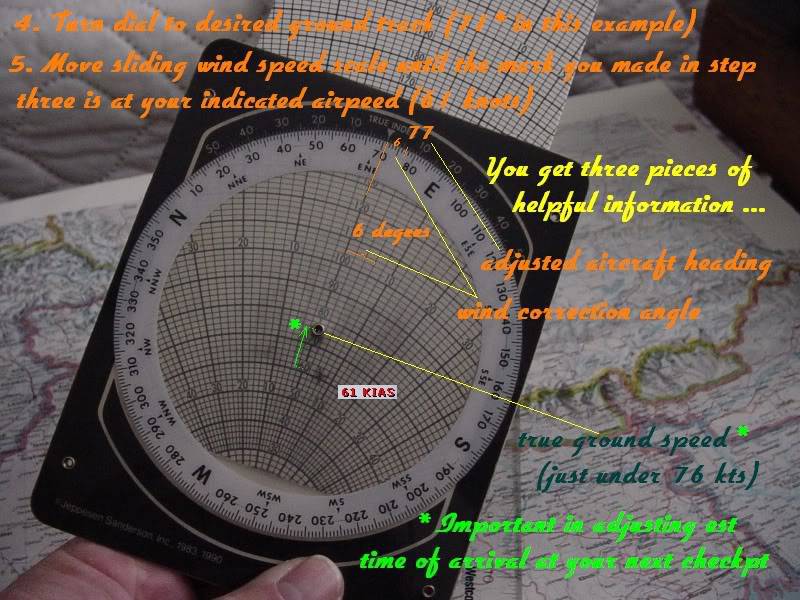 Yaw (pointing one way while actually moving another)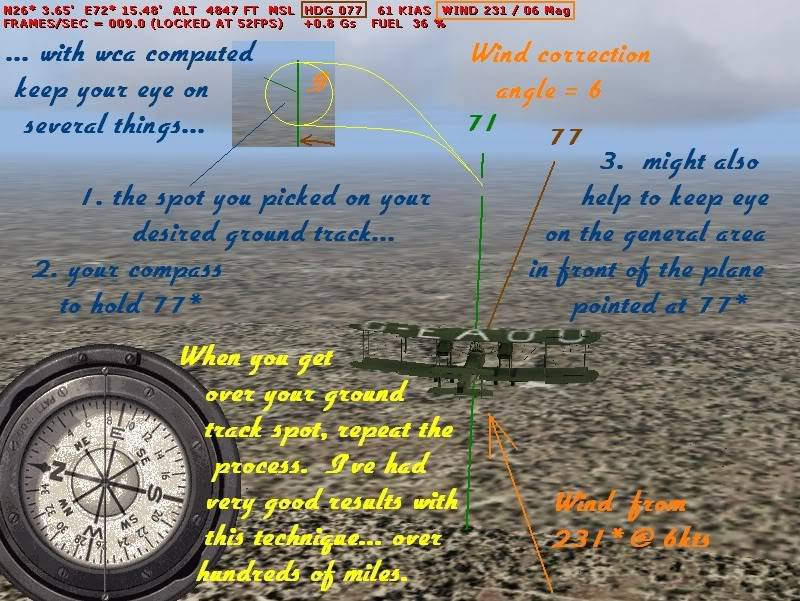 Even more important when you have no landmarks in sight... clouds or over water.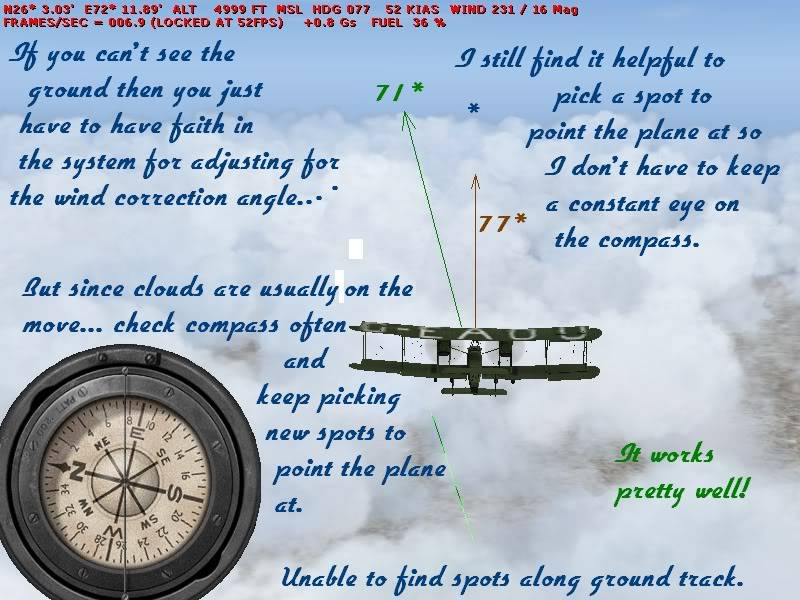 And... why its important to get an idea of true ground speed and have an accurate clock to dedreckon your way to your next check point.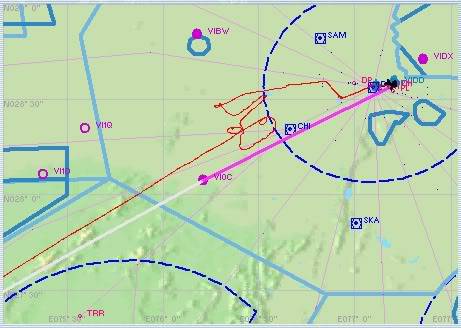 As I said, I won't look at my position on the sim map during such flights. But after arriving at my destination I did open the map to see just how badly I'd done relative to my course after mis managing true ground speed and the clock. In the picture above, I knew by the clock that I had passed my checkpoint (VIOC) and I turned back to look for it so that I would have that exact place to continue my flight from using the techniques described above. Before turning back I made a mental note of where I was but because of clouds, and because I'd failed with reckoning ground speed to the clock I not only failed to find VIOC but also failed to find the spot where I turned back from. At which point I was fairly lost. I decided to fly on a line that I hoped would pick up some landmark I could find on the map and then reestablish my position relative to the flight plan course. I eventually spotted a lake that I'd seen on the map, flew to that and then saw the lights of the destination city.
Hope this will help some of you and encourage all to have some good challenges without all the modern nav helps. Its very fullfilling to fly for 6 hours and actually see your airport come into your field of vision. It tests your faith in the system. But if you let your faith in it waver then you'll get lost for sure.
One thing I've found in my own experience is that I usually will veer slightly left of course. So sometimes if I don't have a really nice spot to look at directly on my desired heading I will pick one that is one degree right of that.