Hey people,
Today I went to EGKK (London Gatwick) to do some plane - spotting. I live near by the airport so it was only a five minute drive. During my time their I took some pictures of a whole range of aircraft including an A330 - Bae146. I took the pictures with a standard, normal camera and I don't know if there is a way to show these pictures to you on Flyaway. I'm not sure how so if anyone could tell me that would b great.
Altogether, I took about 40 pictures in all - obviously I will only show you the best ones. I got a good amount on approach, on takeoff and also planes holding short of the runway awaiting clearance.
I managed to get a picture of a Virgin Atlantic 747 should look good and also one of a Fly Emirates A330 - I think. On the tail of the A330, Fly Emirates, there was a little sign representing the Football World Cup ion Germany. This is obviously a rare paint of that aircraft.
So.. It would be great if someone told me how i can load my pics onto this site then that would be cool - and remember, I didn't use a digital camera, I used a normal, standard one. 😀
Thanks alot guys,
OK - but how do I actually get the images on my laptop?
SteveT wrote:

OK - but how do I actually get the images on my laptop?
As i read you have a normal(film)camera.
So you must scan your pictures in order to have them in data files and them upload them.Do you have scanner?
SteveT wrote:

No I don;t
Well you have to find someone who has a scanner or you can ask from the photograph shop you get them to put them in a CD.
Thanks for your advice GM - I have put my films into the photoshop for processing so they will ready for everyone to see on Thursday.
Thanks again 😉
Thanks hms - I have got some good ones on appraoch nd takeoff 🙂
Talking plane spotting....now sorry guys just a test to see if I can put a photo on!


Last edited by PH on Sun Jan 29, 2006 10:22 pm, edited 1 time in total
Dont sorry about anything they are great shots :wink😞a litle big to fit page but its ok 😉 )


Last edited by Greekman72 on Sun Jan 29, 2006 10:16 pm, edited 1 time in total
Thanks

Heyyy...No

....You ve done a good job ❗
I have 19 inches.....of monitor (widescreen) so its OK for me!! 😂 I promise to find out how to make them smaller!
Its ok my friend.I guess that.You can resize your pics from most pic-viewer program or you can post a thumbnail of it.But dont get in this proccess cause of me.I have a 15''

monitor that why i told you so.

Glad to hear you got some photos SteveT, I look foward to seeing them as Gatwick also used to be my local airport too and it turns out I used to live about 10 minutes down the road from SteveT ❗
On the tail of the A330, Fly Emirates, there was a little sign representing the Football World Cup ion Germany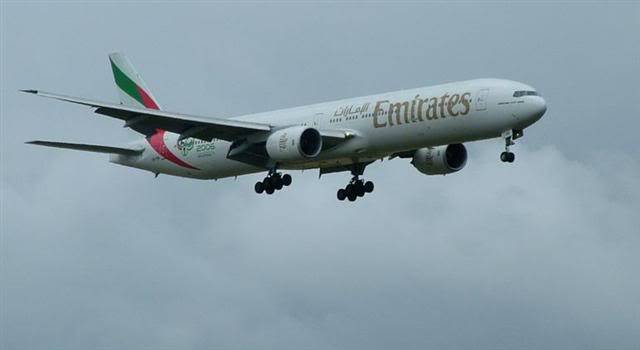 Lol, it wouldn't happen to be this one would it? Although the sign is on the fuslage not the tail. I took that pic myself when I was plane spottin in New Zealand so prehaps it was arriving from Gatwick??? (BTW- I also have a photo of an Emrites A340 with the Germany 2006 vinal)
You should PM to crosscheck9 in order to noitce this shot.
I bet that he loves to see it 😉
the plane that you posted is a 777 so it's obviously not going to be the same as the one that other guy spotted is it, his being an a330
the plane that you posted is a 777 so it's obviously not going to be the same as the one that other guy spotted is it, his being an a330
My mistake. It was proberly this one then: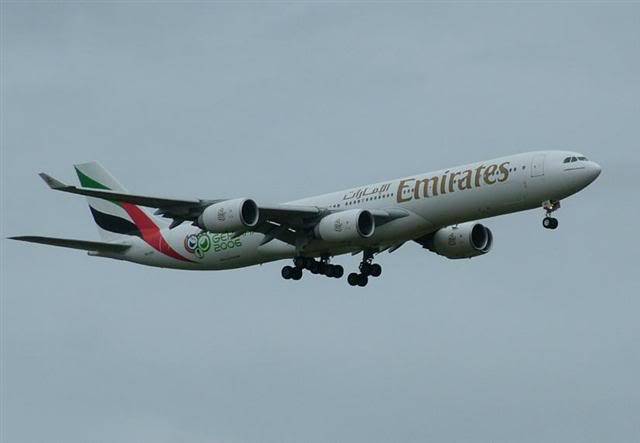 ...which I also saw on that same day I took the other picture above 😎
that's an A340! try finding one that looks similar but minus an engine on each wing
cheekytrolly wrote:

the plane that you posted is a 777 so it's obviously not going to be the same as the one that other guy spotted is it, his being an a330

My mistake. It was proberly this one then:

...which I also saw on that same day I took the other picture above 😎
Yeh - I saw one of them and I also got a good picture of it. It was taking off when i took it 🙂
Greekman72 wrote:

You should PM to crosscheck9 in order to noitce this shot.
I bet that he loves to see it 😉
GM, I find it absolutely amazing how you can constantly keep others mind. Thank you very much for considering my love for such aircraft/airlines. It was very nice of you to bring attention to it 😀 . You are, as many would agree, the most pleasant one here (taken from CrashGordon)
Well thanks

dear Crosscheck but i have not done something special...it just happens to remember your great sig 😉
You all are pleasant and i have to follow... 😉
o my. i,ve not been plane - spotting since i was a young boy

simon123 wrote:

o my. i,ve not been plane - spotting since i was a young boy
Your're never too old! 😉 😀
Thats very true HMS and it's a good point as someone once told me ..enjoy what you do